Swift & Intuitive Text Translator
Are you a passionate explorer, an expat, or traveler embarking on a new language journey? Our text translator equips you with the knowledge to understand people around the globe!
Speak into the microphone or type it in via the digital keyboard. You'll receive an instantaneous text-to-speech translation within a blink of an eye.
The Vasco Translator is the most accurate text-to-voice translator on the market, combining the power of 10 different language engines to give you results with up to 96% accuracy.
Decipher words and phrases
Convenient digital keyboard and voice recognition
Potent language-acquisition tool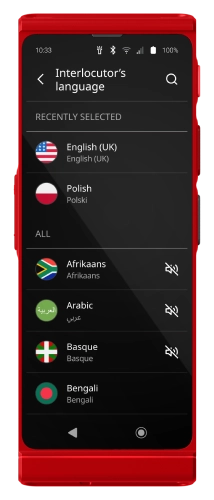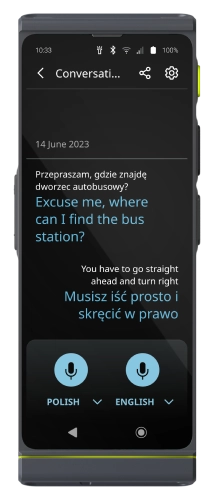 Avoid excessive roaming charges abroad
Text translation facilities necessitate data or an Internet connection, and expenses can quickly accumulate when you're overseas.
Vasco devices come fitted with a built-in SIM card that spontaneously links you to accessible networks in nearly 200 countries. At no additional charge, forever.
No data subscription necessary
Uninterrupted connectivity in nearly 200 countries
Text-to-speech translation and quiet mode
Accurate text-to-speech language translator
Our Text Translator has 10 language engines — 9 more than the other translators on the market.
With Vasco, you can have confidence in the precision of translations, ensuring your communication is always clear.
96% translation precision, even for rarer languages
10 engines yielding the best translation results
Expand your vocabulary in the process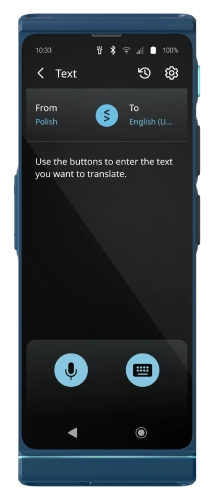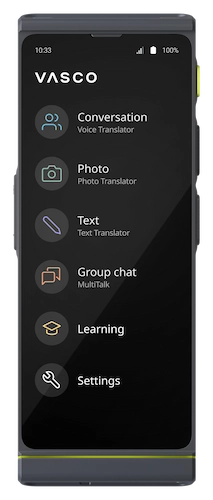 Text translation for 90 languages
With Vasco text language translator, you can decode the world, even in places where lesser-known languages are used.
With this portable translator, you have the freedom to explore anywhere, and the confidence to do so. The device guarantees the accuracy up to 96% accuracy.
Decipher text in 90 languages
Learn accurate pronunciation
Uncover new vocabulary and useful expressions
More than a Text Translator
When words escape your mind, the Vasco text-to-voice translator is your ally.
Whether you need to ask for directions, articulate a food allergy, or request hotel services, Vasco helps you communicate effectively, regardless of your location. It's more than just a text translator:
Speech Translator: Comprehend and converse in 76 languages
Photo Translator: Decode 108 languages with the integrated camera image translator
Phone Call Translator: Understand and speak with your caller
Chat Translator: Automatically translated multilingual chats