Bridge Global Connections with Friends and Colleagues
Are language barriers stalling your communications at work? Do you wish to forge deeper relationships with overseas friends? The solution lies in our chat translator, MultiTalk!
Our chat translator facilitates multilingual conversations, as you can chat in many languages.
MultiTalk translates all messages in real-time, ensuring natural and fluent experience.
Invite up to 100 participants to our chat translator
Share the QR code or the conversation name for guests to participate
Choose your language and engage in chat with automatic translation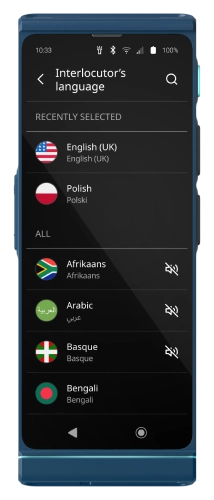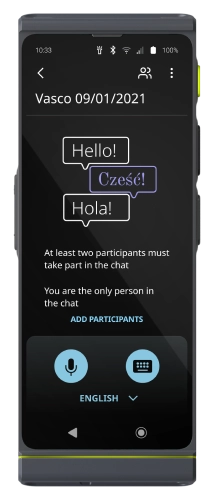 Intuitive, User-Friendly Chat Translator
Our chat translator, MultiTalk, is designed to make multilingual chats a breeze. Start by setting up a chat, selecting a name, and then extending invitations for others to join. Guests participate in the chat via a QR code or group name.
They pick their preferred language, and the conversation kicks off. Everyone can chat in various languages by voicing or typing their messages, which our chat translator automatically translates for each receiver.
Immediate chat with translation in a multitude of languages
Voice and text translations in everyone's chosen language
An intuitive multilingual chat translator that's easy to use
Dependable & Accurate Chat Translator
Our chat translator employs 10 translation engines, offering consistently accurate results.
The chat translator dissolves language barriers instantly, ensuring a smooth and spontaneous group conversation with accurate translations for all participants.
Auto-translation with an accuracy rate of up to 96%
Superior quality, even for less commonly used language pairs
Chat translator that bridges the language chasm with ease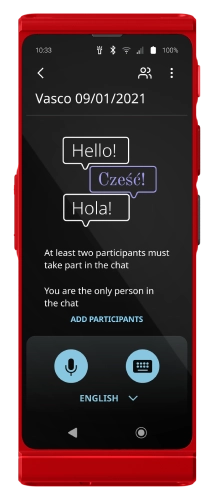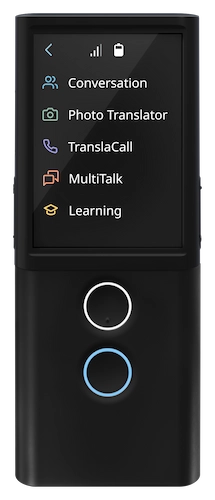 Communicate in Any Language, Anywhere, Anytime
MultiTalk is compatible with both Vasco Translator M3 & V4, but you can also get the app from Google Play and AppStore. Like any of our devices, it comes fitted with an in-built SIM card. It connects to the Internet in nearly 200 countries, offering free, unlimited, lifetime connectivity!
The Vasco translation device is an excellent investment for all your multilingual communication requirements, be it business trips or travels abroad. Forget about hefty roaming charges!
Relish unlimited lifetime connectivity in close to 200 countries
Say goodbye to roaming charges abroad
Connect with people across the globe using our chat translator
More Than Just a Chat Translator
The ability to engage in chats in different languages is a huge boon. You can now initiate smooth communication with multilingual acquaintances and colleagues. But Vasco Translators offer much more than just a chat translator.
With Vasco, you can communicate with over 90% of the world's population. Besides our chat translator, we offer several valuable features to aid you when language becomes a hurdle, whether at work or during travel.
We'll make you feel like a local, no matter where you roam!
Photo Translator
Text Translator
Phone call Translator