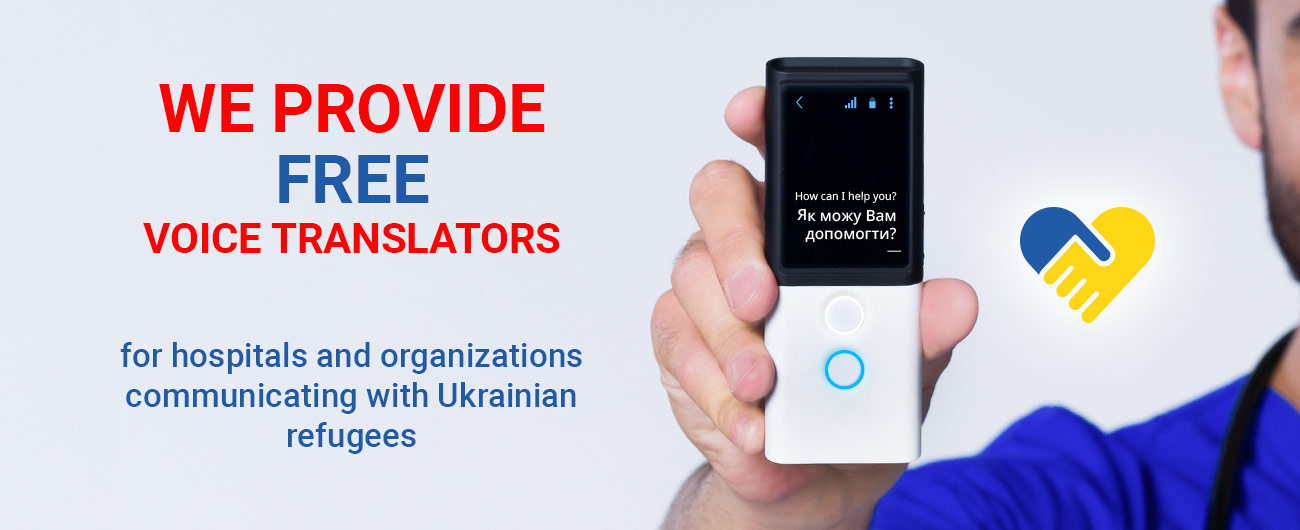 Submit a request for a Ukrainian translator
If your organization needs a voice translator to communicate with refugees, email us at standwithukraine@vasco-electronics.com
In the body of the email, include:
number of devices needed
name of your organization
address
contact person
number of refugees
Ukrainian translator that helps refugees
Gestures are important, but we shouldn't underestimate the power of words. And if those words are spoken in Ukrainian, we make sure that people who receive our support feel safer.
Russian invasion of Ukraine has caused many people facing an unimaginable tragedy. They have to leave their home to flee the barbarism and cruelty of the Russian troops, not sure what tomorrow will bring. What we can give them is merely a substitute of their home and sense of security. People suffering from the war in Ukraine will surely appreciate us speaking in their native language.
To help with this mission, we are happy to transfer free of charge Vasco voice translators that offer Ukrainian to English translations: spoken, written, and from the photo.
Being a victim of Russian invasion of Ukraine and relying on the help of strangers is a huge tragedy in life. Let us do everything to make the victims of war in Ukraine feel more secure.

How is our Ukrainian translator already helping?
We provide translators free of charge to foundations, organizations, associations, hospitals, etc. Every day, the number of supported organizations increases. Our Ukrainian translator is already supporting several Polish organizations, including those located on the Polish-Ukrainian borders.
Here at Vasco Electronics we also strive to aid Ukraine in more ways. We are supporting the Ocalenie Foundation and the Polish Medical Mission. With the help of the latter, we have established the PMM Vasco Emergency Team, whose first mission is to bring help to victims of war in Ukraine.
Help the victims of war in Ukraine
A simple translation app is not enough to provide effective assistance. Vasco devices are equipped with several features that help avoid misunderstandings, including:
Voice translation
Text translation
Photo Translation
However, even the best Ukrainian translator cannot replace our goodwill and support. The Russian invasion of Ukraine has shown us that those values are more important than ever. Therefore, let's show kindness to refugees every day - some day we might need it as well!
Read the terms and conditions of lending, which you can find here.